Vigilance in hiring, managing foreign teachers teaching English
QUALITY STANDARDS OF FOREIGN TEACHERS OF EIV
With more than 6 years of experience in recruiting, training and managing foreign teachers who are living and working in Vietnam, EIV Education International Joint Stock Company is able to solve and give out the best solutions to the problems and difficulties that recruiting agencies in Vietnam often have recently. At present, EIV is managing 55 native teachers in Ho Chi Minh City including full-time and part-time. Below are the criteria of choosing teachers that we aim to and follow strictly to make sure to gain the best quality:
Standards for native English-speaking teachers:
EIV recruits only teachers with nationality from USA, UK, Australia, Canada, New Zealand, Island, South Africa
Have full and clear legal status and legal documents, lawful work permit of the State.
Be graduated from Bachelor's degree, Bachelor's degree or higher and have a degree from the university of the home country.
Have International Certificate in English Teaching: TESOL, CELTA, TEFL
Have more than two years of experience in teaching English in the home country or countries around the world
Have professional style, friendly personality, suitable with Vietnamese culture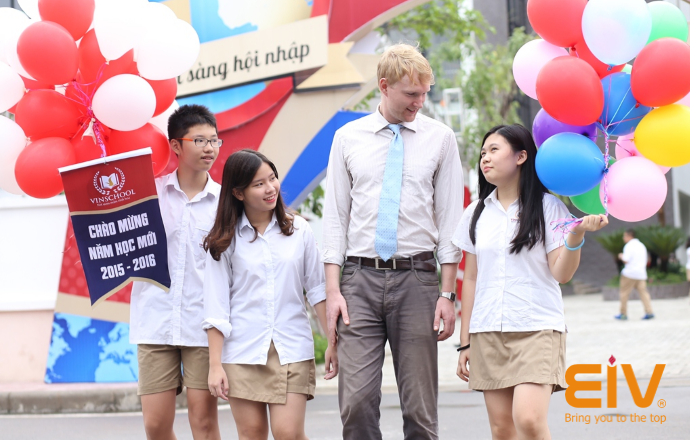 Process of recruitment and management of teacher:
The training department of EIV reviews the application file, ensures that the candidate has a clear, clean criminal record, no convictions, and a full degrees.
Training inspectors of EIV attend the trial-teaching classes to review teaching competence of the teachers according to EIV standard:
Teaching methods.
Communication skills and pedagogical manner
Standard tone, friendly personality with the students
If the teacher passes all the test steps, EIV will sign a 2-month probation contract with the teacher. EIV monitors and evaluates carefully the suitability of teachers in the two months of probation
If the teacher passes 02 months of probation, EIV will sign a full-time contract with the teacher and proceed to work permit for foreigners in Vietnam and other regimes and policies for foreign laborers.
All EIV teachers are professionally supervised and supervised by the training department of EIV.
All programs and instructors, teachers must prepare lesson plans, weekly newsletters before teaching the EIV training department to monitor and follow up
The EIV's training department regularly organizes the examination and evaluation of the learning results of the customer (corporate and individual customers). Particularly for foreign language centers and schools, EIV will coordinate and support examination if the customer requests. Through this periodic assessment, EIV will evaluate the teacher's teaching outcomes, thus making adjustments to maintain and improve the quality of teaching of EIV's teachers.
EIV's training department also regularly organize training classes for all teachers to share their teaching experiences and improve the performance.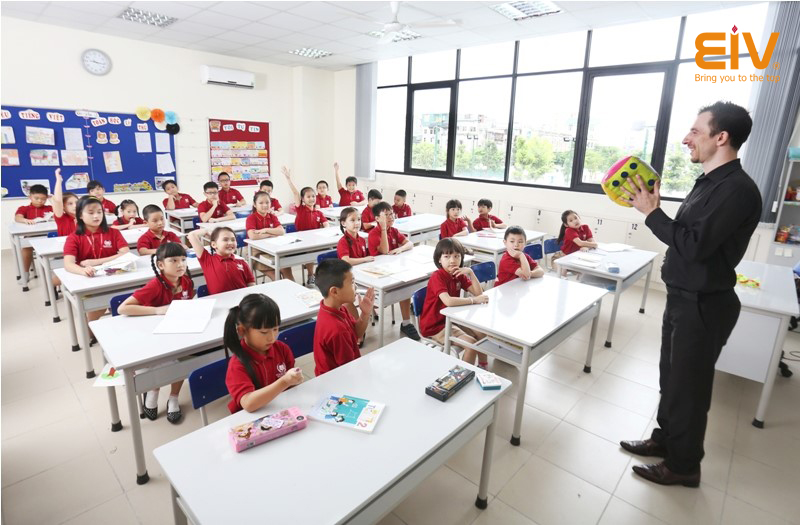 Tuy nhiên một số lý do sau đây khiến việc sử dụng giáo viên bản ngữ tại các trường còn hạn chế:
Nhà trường thiếu nguồn giáo viên ổn định.
Công tác quản lý lao động nước ngoài còn nhiều khó khăn về thủ tục hành chính.
Khó khăn trong việc tìm kiếm và tuyển dụng đội ngũ giáo viên đạt tiêu chuẩn giảng dạy.
Chương trình chưa phong phú, hấp dẫn đối với học sinh / học viên;.
Cooperation with foreign teachers teaching English is a policy of the education sector of Vietnam. And this is a real need to improve the quality of teaching English today, especially the ability to listen and speak English of students in particular and the Vietnamese in general.
In order to give the school more opportunities to develop and validate the quality of education as well as to build effective English learning programs, many schools use the method of hiring human resources from centers, educational organizations outside. EIV is always ready to accompany you in opening the opportunity to cooperate with foreign teachers in Vietnam