As English becomes an essential part of our society, it is crucial to find reliable English sources for studying. With 11 years of experience, EIV Education is proud to be a pioneer in recruiting foreign teachers as well as providing quality educational services. 
EIV EDUCATION IS SPECIALIZING IN RECRUITING FOREIGN TEACHERS FOR SCHOOL
EIV Education is currently working with more than 600 clients and the number is growing every year. We provide professional teachers for both public and private schools, universities, colleges, etc. We also work with many English centers to aim for a developed English environment in Vietnam. Moreover, we provide teachers and English programs for many companies and organizations in terms of business English. EIV Education is also honor to present the one-to-one class, which is one teacher and one student. Online classes are also available at EIV as we use the platform of Skype, Yahoo webcam, etc. EIV is proud to provide these dynamic options to our customers.
The demand for English is high in Vietnam, especially Hanoi. Thus, we are looking for full time and hourly paid teachers to teach English in Hanoi. Do you like to develop your teaching career in professional and global organizations? Do you enjoy teaching English to people of all ages? Do you wish to live in a dynamic and foreign environment? If all these questions apply to you and you have a degree, teaching certificates, and teaching experiences, please click 'Apply' to fill out this form and we will get right back to you!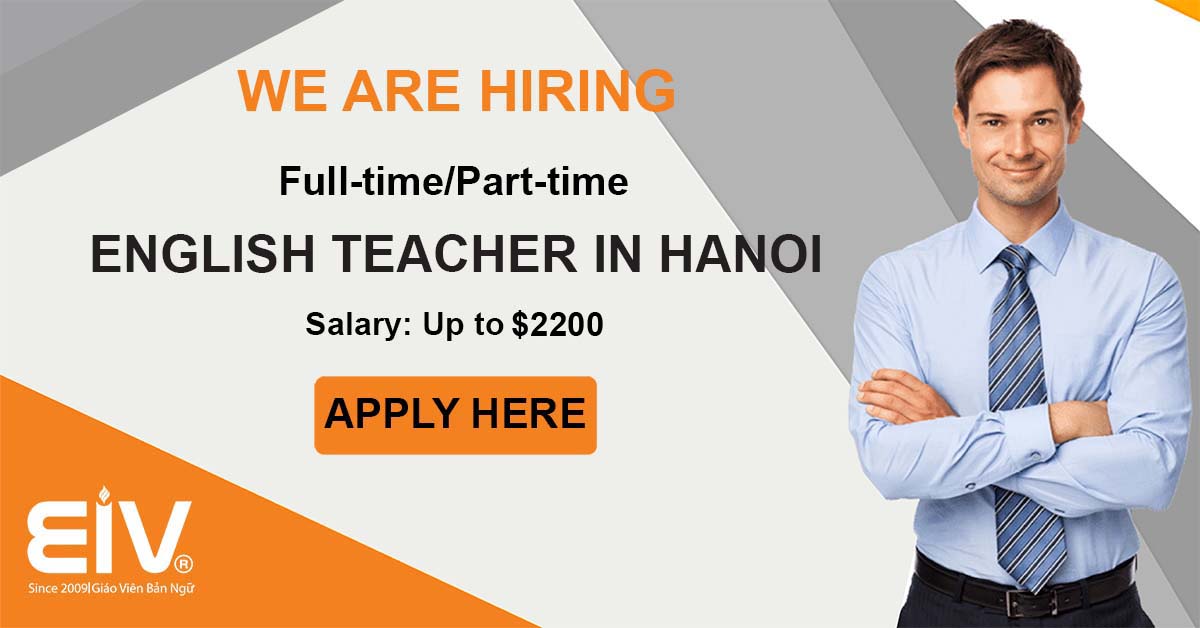 We are hiring native foreign teacher full-time/part-time in Hanoi
DETAIL ABOUT EIV BENEFITS FOR NATIVE FOREIGN TEACHERS
The information below will give you an insight into our benefits and requirements for being an foreign teacher teaching English in Hanoi.
BENEFITS: 
Up to 50,000,000 VND per month or even more, based on the hours and positions

Assistance with work permit

Paid Vietnamese holidays & paid annual leave (only for full time jobs)

Training and development programs

Completion bonus

Career opportunities
REQUIREMENTS
Candidates require the following:
Bachelor's degree holder or higher

A clean home country Police Clearance Check with a 6-month validity 

Equivalent with evidence of high proficiency 

Able to commit until the end of the school year

Teaching : A TEFL / TESOL/ CELTA Certificate
ADDITIONAL REQUIREMENTS
Strong communication skills

Self-motivated, ambitious, actively seeks out challenges

Ability to apply creativity and flexibility to our curriculum

A student-oriented mindset

Age range between 22-50
Our goal is to provide the best quality and to develop English studying in Vietnam. To achieve our goals, your contribution is inevitable. Moreover, we believe that the cultural and traditional aspects of Hanoi will surprise you and give you amazing experiences. Thus, apply to be a foreign teacher in Hanoi and we look forward to working with you!
Take a look at some pictures & video below.
If you have answered yes to these questions and have a degree, teaching certificates and teaching experience, please click 'Apply' to fill out this form and we will get right back to you!

Plese appy now to fill this form and we will get right back to you
Some detail information about EIV Education, you can find it "HERE"