Children from 5-11 have the highest rate of development in cognitive, intelligence, emotions, ability, and behavior. Moreover, their emotions and feelings are easy to be affected, they cannot concentrate, and they easily lose interest in studying. Therefore, understanding children's feelings and perspectives and encouraging them to study, especially linguistic are parents' priorities.
Understanding the concerns, EIV introduces the "One to One" program for Primary students. This program includes innovative teaching methods and teaches who have experience in working with kids.
Why choosing One to One for Primary students?
EIV always does our best to create suitable programs to deliver students not only knowledge but also satisfaction. Thus, here are the reasons why parents choose us for their children's education:
For parents
Children will study at home, which saves time for parents
Parents can follow their children's progress through tests and teachers' comments after every class
Parents can also experience the demo, which helps parents understand more about their children's feelings and get closer to them
Parents will be happy when they witness their children have an interest in studying English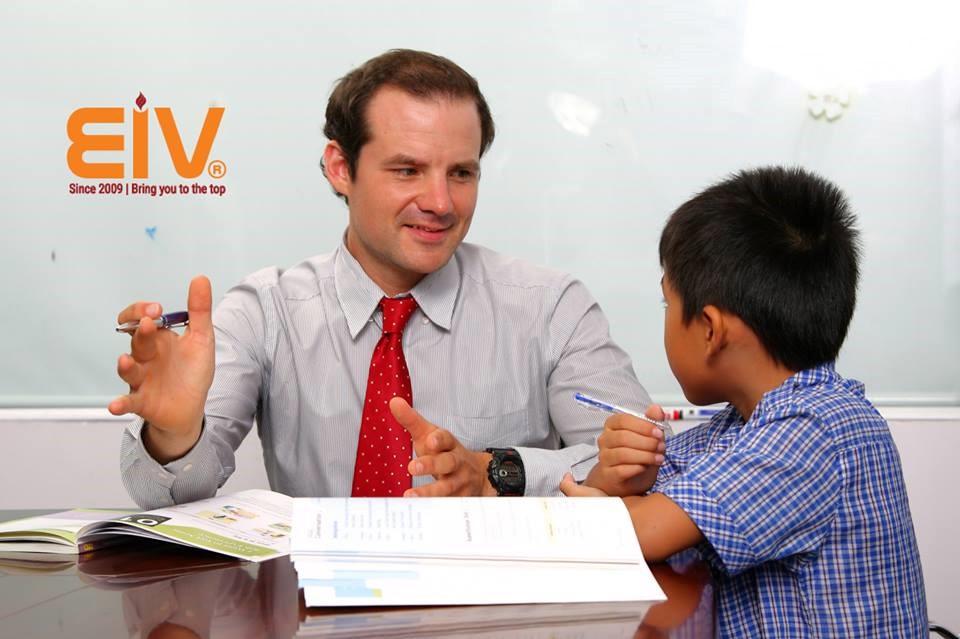 For students
Studying at home will give students a comfortable and convenient environment
Teachers will pay full attention to the student, which avoids student's low self-esteem and focuses on the development
Students will study with teachers who have a global teaching certificate, experiences in teaching, and experiences in working with children. Especially, teachers even understand the common problems that Vietnamese kids face, and teachers will help them to fix those problems
Through application lessons, students will develop overall in both academic and social skills such as independence, confidence, responsibility, etc.
Modern and global teaching methods
To help students improve their linguistic skills, EIV does our best to create an effective English environment with the distinct "One to One" program.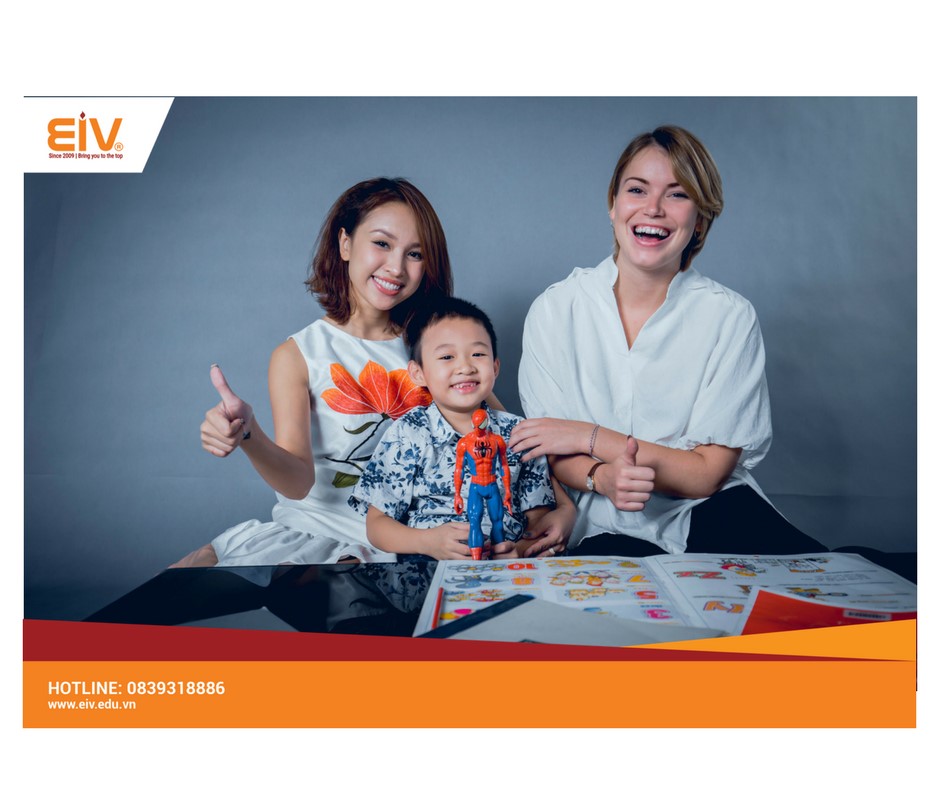 EIV acknowledges that each child will have different methods of learning. Some kids prefer doing exercises, others learn through visual and audio, etc. Each teaching method will have its distinct advantages and results. Therefore, we research and build a teaching program that will mix traditional and modern learning, providing students with the most creative studying method.
Details about One to One

Learn from exercises: Students will study through games, which will help students memorize the vocabulary and understand the knowledge
Learn from visualization: Students will use flashcard, images, and videos to understand the information better
Learn from audio: Students will listen to the teachers and watch videos to see the differences in accents
Learn from speaking: Students will practice speaking like teachers. Students will learn how to speak like a native from copying the teachers' accents, pronunciation, the use of words, etc. Practicing speaking will also help the student develop reflex skills in conversation
Careful observation: Teachers will work with parents to make sure that parents study and review with their children after classes
3 test/ program: students will do tests to see their developments. If the progress is better than expected, students may be transferred to a higher level.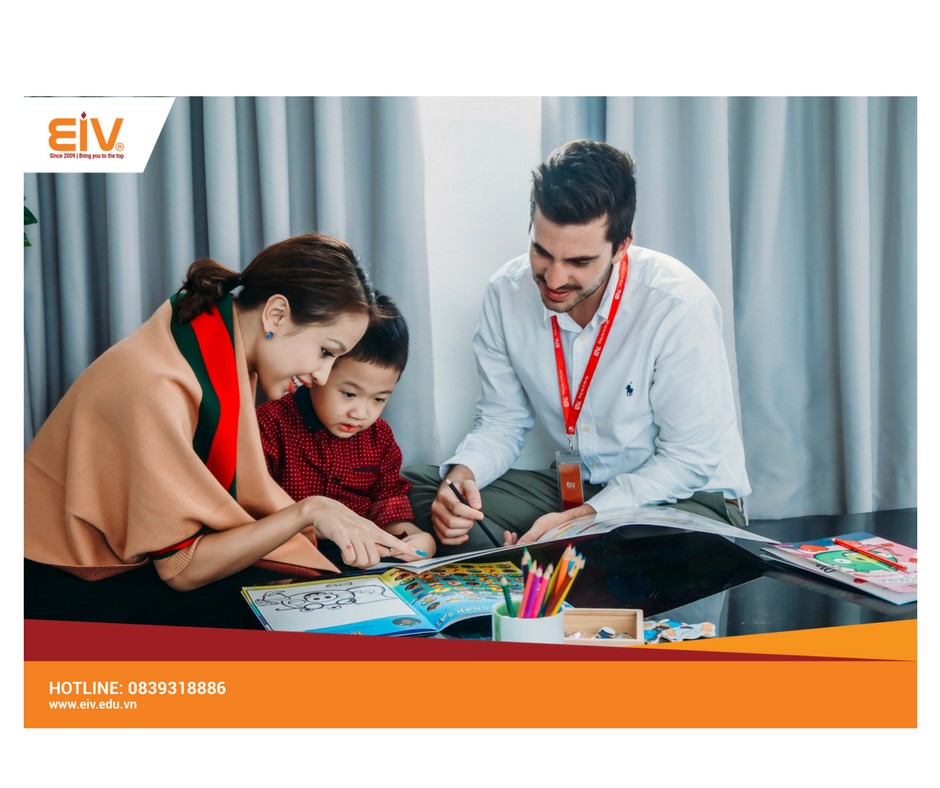 EIV believes that program One to One will help teachers and parents realize the students' strengths and weaknesses and suitable studying methods that suit their personalities. Also, what makes the program successful is a collaboration with the Super Minds program.
Super Minds program for kidsEIV believes that the Super Minds program will help children get interested in studying English. The program includes seven books equal to seven levels and here are some details:

This program will teach students to THINK and this method is inspired by the book "Developing thinking skills in Young learner's classroom"
The lesson's structure is designed with interesting activities using games, illustrations, and exercises.
CLIL model (Content and language integrated learning): Students will also study other subjects in English, which provides them opportunities to learn subjects in different methods as well as get used to using English frequently.
Sections in practicing a distinct skill (listening, speaking, reading, writing) will be designed from easy to hard to create challenges for students
Each lesson will consist of a moral story so that students will not only study the language, but they will also learn about the world and virtues.
Super Minds also include many scientific lessons, helping students to develop overall.
The books have many exercises that stimulate children's imagination so that they can learn about themselves. Students can also be creative when they learn extra knowledge on DVD ROMS.
Studying path and the results
The path will include 100 hours of theories and 20 hours of exercise from Super Minds. This pat will help students develop their skills and knowledge overall from easiest to hardest levels.
One-to-One Primary details:
Benefits from learning with EIV
Students will have free entry test and good results will be delivered
EIV is ready to help the customers at any time and help parents choose the suitable courses for their children
There will be reports to inform parents about their children's weaknesses and strengths; parents can also join the demo class and extra activities
Additional instruction will help parents revise the class with the students through games and exercises
Students can study at EIV if your house is not suitable for learning
EIV will accompany parents in choosing teachers and setting schedules
The course will be designed based on parents' special requests with suitable costs
Fee for One-to-one Primary

Customer's feedback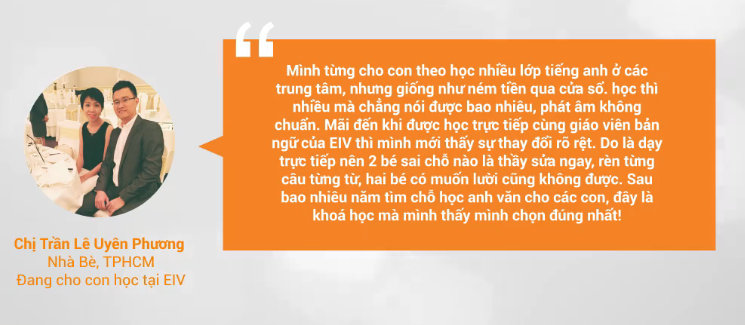 The customer's feedback is our largest motivation to continue to develop and improve our education's quality. What are you waiting for, click SIGN UP for more information from EIV?
---